The hardships of destiny
Cristina, 45 years old, has 2 children, aged 11 and 12, respectively. The house she used to live in, a one-bedroom apartment was purchased by means of an instalment loan. She was forced to leave her home after divorcing her husband, a violent alcoholic who would often beat her in front of the children. Even though the apartment is now in her name and though she paid her ex-husband to vacate the flat, Cristina cannot move back in with her children, because she has huge debts on her utility bills, which she pays off little by little every month, using her entire salary.
Ioana became a mother at 19. Her parents, divorced since she was a teenager, went to work in Spain. Abandoned by her family and having to look after her little sister, Ioana met the man of her dreams and fell in love head over heels. Her dream started to fall apart when she and her boyfriend had to leave for Spain as well, hoping for a better future. Upon getting there, she was forced to prostitute herself and support her boyfriend, who had now become her executioner. She only managed to escape his enslavement when, after a savage beating, the attacker, her former lover, thought her to be dead.
Adriana has five children and makes 1.000 lei a month. She gets up at five in the morning and goes to sleep late at night. She works as a housekeeper for a family seven days a week.
Claudia, 14 years old, got pregnant with a man who went to jail. The young Romani girl's family is far from ideal. Her parents are divorced, but they live in the same house: her mom and her current paramour in one room, and her father and his concubine in another. Claudia's mother also has another 1 year and two months old child and she is pregnant again.
The names are fictional, but the cases are real. We are talking about physically, emotionally and financially abused mothers, who have been left to face a dark future for them and their children, alone, disoriented and helpless.
Casa Agar, maternal centre financed by the Vodafone Romania Foundation
Fortunately, Casa Agar maternal centre has given them a second chance within a residential home for women in desperate situations. During its 10 years of activity, the centre has helped over 150 mothers.
From 2014 to 2015, the Vodafone Romania Foundation is financing the Casa Agar Maternal Centre from Bucharest, and along with theRomaniaTouched Association aims to offer shelter and support mothers in difficult circumstances, and their children.
"Most of the mums who end up here are victims of domestic abuse", saysNatalia Ungureanu, executive director of the Romania Touched Association.
"Domestic violence means physical, emotional or financial abuse".
Victims of domestic violence are the children as well, who witness the parents' conflicts and end up with scarring psychological trauma.
"We once had a mum at the centre whose child would bang his head against the walls. We couldn't contradict him about anything, because he would start hitting himself", Natalia Ungureanu recounts.
Fortunately, at the Casa Agar maternal centre, aside from residential and cafeteria services, mothers and children also benefit from psychological guidance and counselling.
"It's like a laboratory in here",as Lidia Stoichici, project manager at the centre tells us. "Children come here like they would to an afterschool, because we also help them with their homework".
The mothers who haven't graduated from middle school or high school also benefit from scholarly orientation. They are enrolled in distance learning courses and offered assistance in finding a job.
We are told that "We have had mums with just two years in school". They were enrolled in the "Second chance" school programmes, with over 2.000 other students across the country.
Mothers are helped with enrolling their children in kindergarten, with the costs covered in full so that they can work and maintain a job.
According to Lidia Stoichici, "The purpose is to get the mothers accustomed with this routine – kindergarten, school, work – and have them be able to do all these things by themselves".
Success stories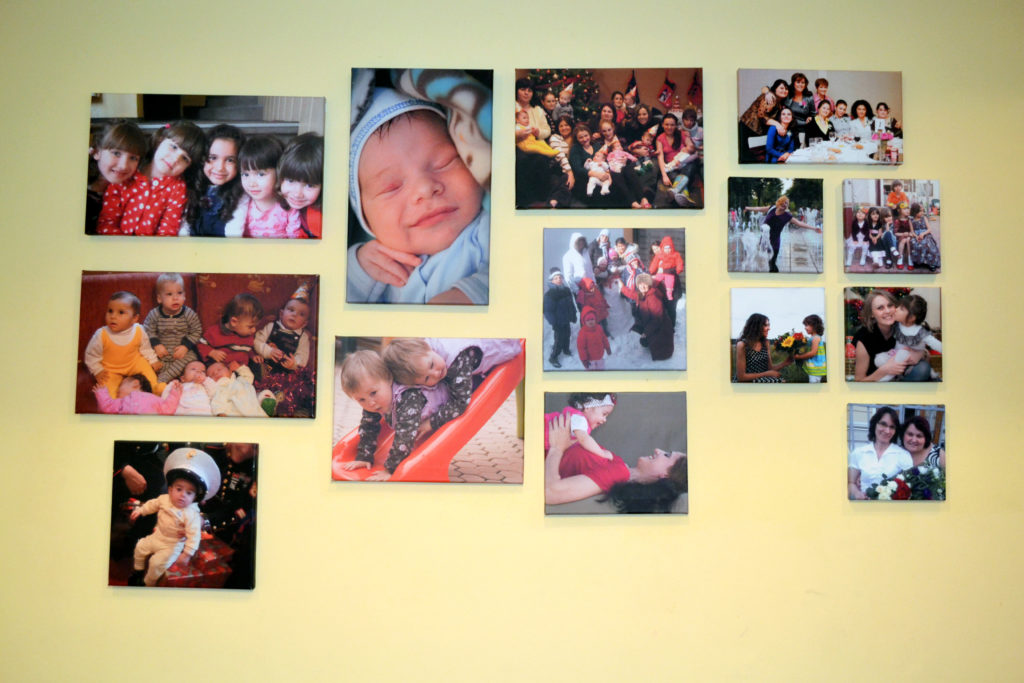 "See these twins?" , asks Natalia Ungureanu, showing us one of the photos that fill the walls of the room we are in. "This is what they looked like when they came to us, they were a little over two years old. Their mother has a little boy as well. She had run away from home, somewhere in the countryside, from a village where even the police were afraid of her husband; he was an extremely violent man, especially due to the alcohol. She left everything behind and after she got here, she cried in her sleep for a month, because of the nightmares".
Beautiful memories, desperate cases resolved happily at the Casa Agar maternal centre, financed by the Vodafone Romania Foundation.
"She was very receptive and hard-working. She took a chef class, and now she works in a Vietnamese restaurant in a mall, as shift supervisor. As long as she stayed with us she managed to raise a quite significant amount of money, which she used as down payment for a one-bedroom apartment. Now, her little boy is in the 5th grade and the twins are in the preparatory 0 grade. She has met someone and she is engaged to be married. This is indeed a happy case", states Natalia Ungureanu.
With help from the same Casa Agar maternal centre, Sorina was also able to build a future for herself. A couple of volunteers from a multinational IT corporation helped her get a job with their company, and subsequently she was also able to buy an apartment.