We have talked about the Mobility Caravan before, a pilot project in Romania, through which people with locomotion disabilities from rural areas in Romania, who don't have access to specialized services, receive personalised mobility equipment and benefit from free adjustments and repairs for said equipment. The program, conducted by The Motivation Romania Foundation and the Vodafone Romania Foundation, aims to help these people attain an independent lifestyle and transform the participants into active members of the community.
We have spoken with Cristian Ispas, Managing Director of the Motivation Romania Foundation, in order to learn what hardships people in wheelchairs have to go through, particularly those living in the countryside, sometimes in areas so remote not even doctors can reach them.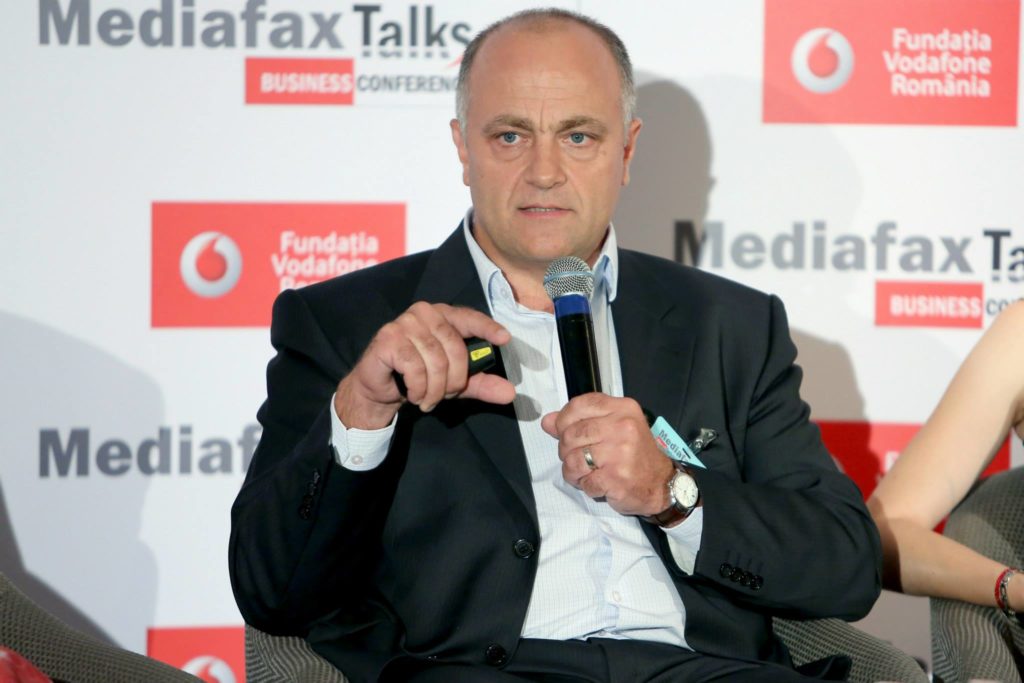 How did you come up with the idea for the Mobility Caravan?
The Motivation Romania Foundation has 15 teams across the country, in order to reach as many people in need of our services as possible. However, there still are people who have been isolated in their homes for years, who don't know much about their rights, how to acquire a wheelchair and how to resume their lives after suffering an accident.
During the home visits performed by our teams, we reach people who, after a short time spent in the hospital, are unprepared to become part of the community again. If "home" is an isolated rural town, their chances of having an independent life and access to information are even slimmer.
Therefore, we have decided to implement a project targeting people in isolated areas and guide them towards a healthy, independent life. For this pilot initiative, we have chosen the counties of Neamț, Alba, Tulcea and Constanța, where the Mobility Caravan, along with a multidisciplinary team consisting of an active recuperation instructor (a wheelchair user himself), a medical assistant, and a technician specialized in mobility equipment adjustment and repairing, offer services to beneficiaries identified by our local teams.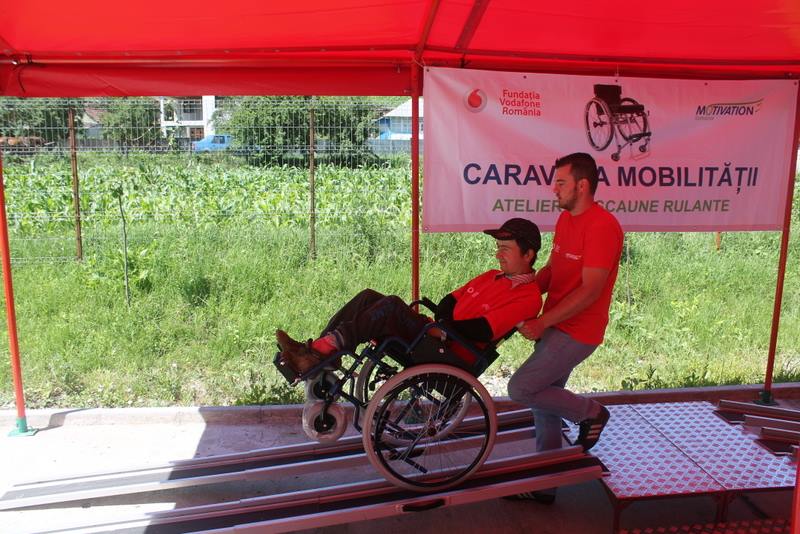 How many people has the Mobility Caravan helped so far?
So far, over 140 wheelchair users have been evaluated during our on-site visits. Besides evaluating their state of health and recommending adequate mobility equipment, they will of course stay in touch with our local teams and benefit from other services as well. During the three trips taken so far by the Caravan, 71 people have been provided with equipment and services.
During the 24th and 27th of June we went to Văratec, Neamț county, where we had 15 beneficiaries and then to Răchitoasa, Bacău county, where there were 10 others. Afterwards, in July, we went to Jijila, in Tulcea county, where during the 14th and 16th we offered new wheelchairs, reparations and adjustments of the old ones, medical and kinetotherapeutic recommendations, as well as independent life training for 22 people with locomotor disabilities.
At the beginning of August, the Mobility Caravan made a stop in Șugag, where our colleagues met 24 other disabled people, and in September we will get to Constanța, too. With the way things are going, by the end of the year we will have exceeded the number of 80 wheelchair users we initially hoped the Caravan's team would reach.
What technical issues do wheelchair users usually have to deal with?
Our colleagues have come across all sorts of situations. Where they couldn't come up with a solution, the people in wheelchairs improvised. That's how we came to discover welded and wooden chairs. We also found rusty chairs, crunching and grinding with every move, which posed more of a danger for the user than actually helping them.  Technical issues may vary, according to the type of wheelchair, how often it's used and, implicitly, how active the user is. Tires get worn down, breaks stop working, the seat fabric may suffer from wear and tear, and so on. For children, there is the issue of them growing out of the chair.
The most serious problem, however, is when there is no chair at all. This often leads to isolation, posture deformation, and other medical complications, such as bedsores, which can be deadly. Furthermore, it's essential that the wheelchair be personalized according to the user's size, diagnosis and abilities. Few know how important adjustments are and how to make them. We inform the people we visit and those showing up at the caravan about all of these issues.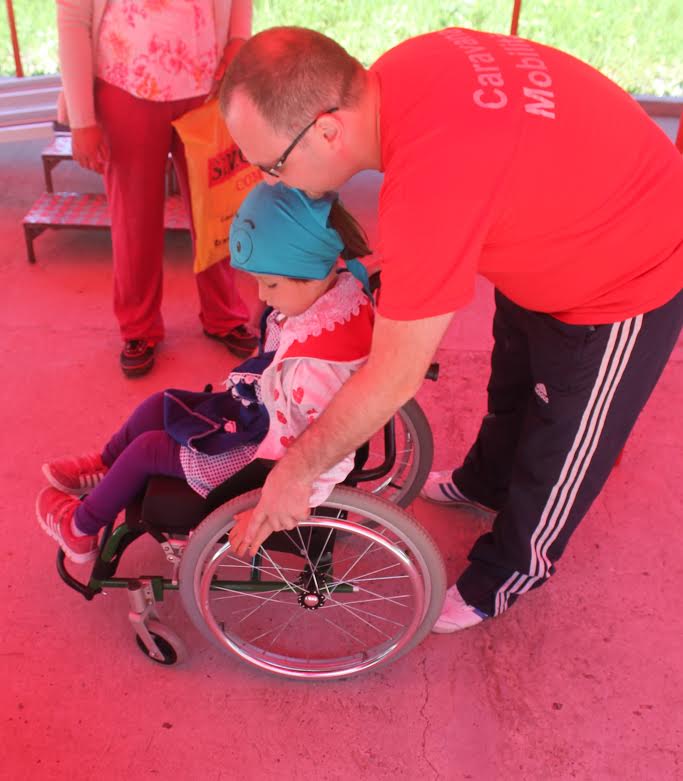 Which are the most serious social issues wheelchair users in Romania have to face?
Home isolation is one of the most severe problems for people in wheelchairs. We have identified the main causes as being the lack of mobility equipment, to help them actually leave the house, and the lack of accessibility, because even if they do manage to get out of the house, they can't get very far due to architectural boundaries.
Aside from these physical boundaries, there is also an attitude problem on the part of the disabled people, who often don't possess enough information regarding the proper usage of a wheelchair and tend to describe those around them by what they can't, rather than what they can do, through their own strengths.
What other projects aiming to help and support wheelchair users are there in Romania?
Nongovernmental organisations initiate various projects, which mostly target the social (re)integration of wheelchair users: labour market integration projects, educational programs, sport integration projects.
One example I can share with you now is our project concerning the Map and Brand of Accessibility. At www.accesibil.org one can find the national map of easy-access places for people suffering from locomotion disabilities. It's an online platform which includes data about buildings in Bucharest and 20 other counties across the country, divided according to accessibility criteria into: accessible, moderately accessible and inaccessible. The information may be used by disabled people towards planning their trips more efficiently.  So far, we have 1275 public buildings marked on the map.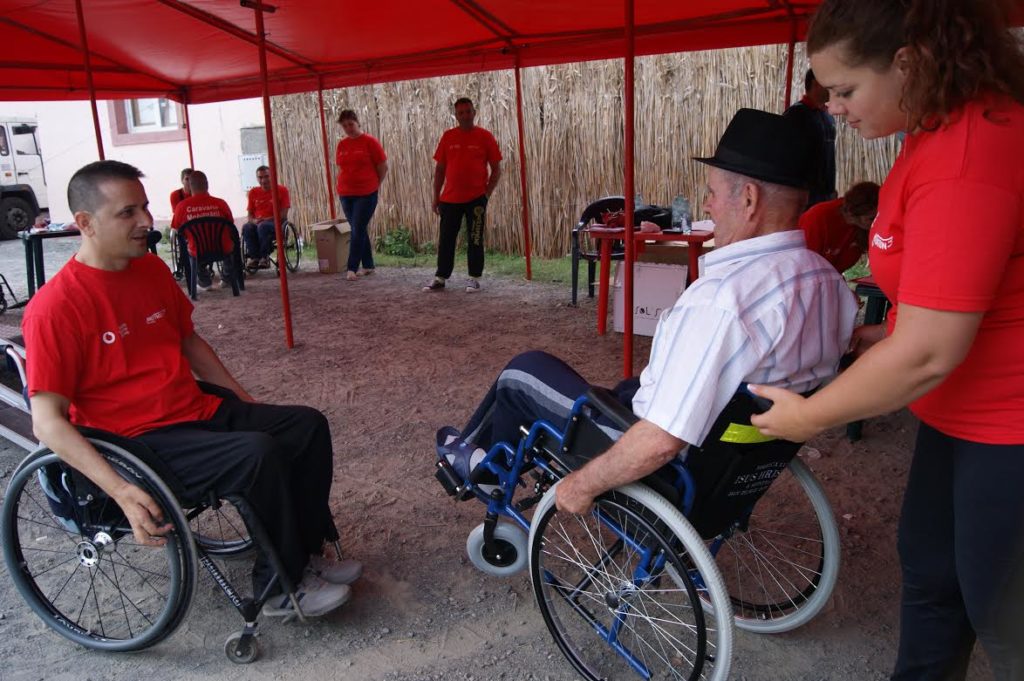 How expensive is a wheelchair? What is its life expectancy?
Prices vary between 200 and a few thousand euros, depending on the material, producer and type of wheelchair: orthopaedic, active, or sport. At the moment, the Health Insurance Fund deducts 1263, 66 lei for a wheelchair, once every 5 years.  Exceptions are people who have suffered a work-related accident, for whom the state doesn't provide mobility equipment.
This is where the wheelchair life expectancy issue comes into play. For active users, 5 years is too long of a wait for a replacement. The same goes for children. They grow up quickly and their wheelchairs no longer fit, sometimes even from one year to another. We are trying to solve the problem through the donations we receive from our partners.
With their help, we are able to donate over 1000 wheelchairs a year, as well as walkers, crutches and canes.
If you were in the government's place, what would you do to help wheelchair users?
First of all, we would ensure free access to public spaces and disability-friendly transportation. Disabled people would therefore become more visible, and those around them would realize that the number of people struggling with disabilities is larger than they thought. In addition, their attitude and perception towards the matter might change, and the social integration process would become less difficult.
Another aspect is searching for ways to further their integration into the labour market. Wheelchair users (and disabled people in general) are not just resource consumers. They have abilities they can use productively and contribute to the well-being of their community.
How many wheelchair users are there in Romania?
The number of wheelchair users may vary with each passing moment. Accidents leading to spinal cord injuries may take place at any time, putting people in a position where they require mobility equipment: car crashes, swimming injuries, falling from high places and so on. A study performed by the Romanian Academic Society in 2010, "On house arrest. The wheelchair financing crisis in Romania", showed that the number of wheelchair users may be anywhere between 42.000 and 78.000. There are people with spinal cord lesions who live in isolation, who don't have medical documents or a certificate stating the degree of their disability. The same study shows that "One in five people requiring a wheelchair don't have one. Public financing manages to cover between 16 and 30% of the wheelchair demand." (Source)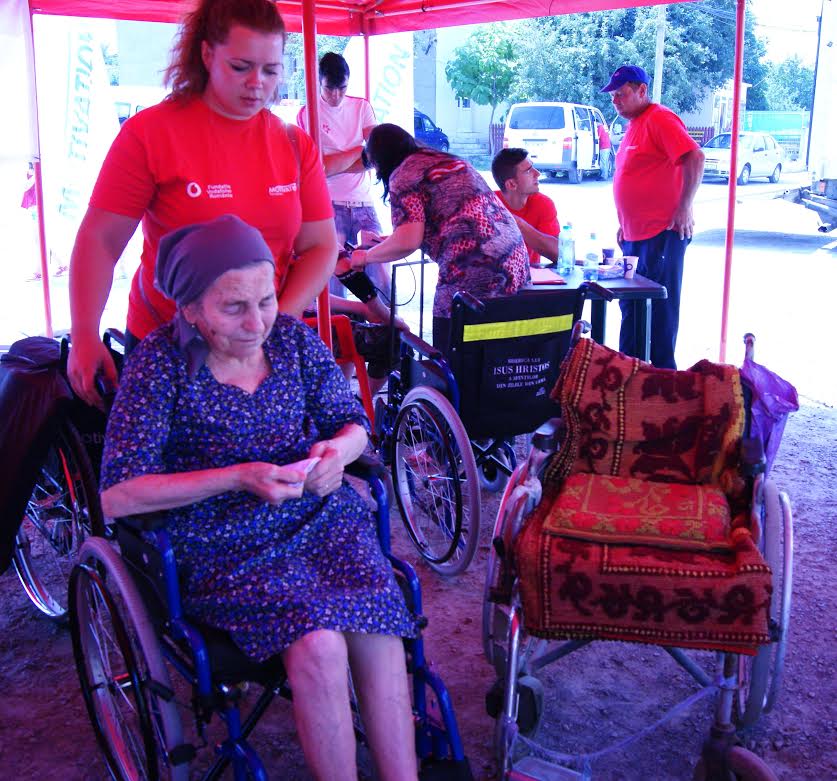 Which case spoke to you the most? Give us an example.
I have encountered all kinds of situations. I will only mention a few cases, the first that come to mind. In Răchitoasa, during the Caravan's first trip, I came across Gaby, a little girl of 7, who came to the caravan's tent dressed in a schoolgirl uniform. We learned that her mother wouldn't take her to school; her family assumed that a disabled child has no place there, that she'd be unable to learn like the other children, and going to school wouldn't benefit her in any way. The little girl would put on her sister's uniform dreaming that one day she would be able to go to school, too.  To add insult to injury, she didn't have a wheelchair either, although she really needed one. We spoke with the girl and her mother as well, we offered her a wheelchair that fits her perfectly and eventually got the mother to promise she would let her little girl go to school.
Then, during the trip to Jijila, in Tulcea county, I met mister Gheorghe, who, despite his 82 years of age, was aglow with this amazing zest for life. He had had one of his legs amputated three years before and hadn't left his backyard since. The old wheelchair he was using was borrowed and didn't provide the safety he needed. We exchanged it for a new one in the Mobility Caravan and he amazed us with his energy and determination. He tried out all the manoeuvres he saw demonstrated by our instructors; even the wheelie (balancing the chair on the rear wheels), which scares even some of the younger users, and is a very useful move in avoiding obstacles. At the Caravan, he also discovered he had high-blood pressure. He was surprised, but admitted he hadn't gotten a check-up in a few years.
In Jijila we also met an 80 year old lady, who had a bedsore she knew nothing about. She thought it was a superficial wound and expected it to heal on its own. We told her daughter that left untreated, bedsores can be deadly, and our specialists taught her the first things she should do towards a speedy recovery. Missis Elena had an extremely old chair herself that creaked terribly at every turn, which we replaced so that she could safely leave the house.
It's hard to choose from so many life stories. Each and every one of them is amazing in its own way. On the one hand, there are active children, who cannot go to school/kindergarten without a wheelchair, there are children and youths suffering from cerebral palsy, who need a safe positioning system to prevent further medical complications. There are also adults who need wheelchairs in order to go back to being a part of their community. Then there are the stories of elderlies forgotten in their homes, with no wheelchairs, who want to go out from time to time, have a chat with their neighbours or go to the doctor.