One spring night, at the beginning of March, in the actors' booth from the National Theater of Caracal, after finishing their classes, several high school students are getting ready for the rehearsals for the show Offline. One boy and one girl are looking over the sheet with the options from the math exam simulation. Alice Grecu, a 17 year old student, with a small nose and black frame glasses, is sitting on a wooden table. She's not very comfortable with the others walking around the room: "Please decide once and for all what are we going to do and let's get started". The theater trainer invites them on stage.
De Medeea Stan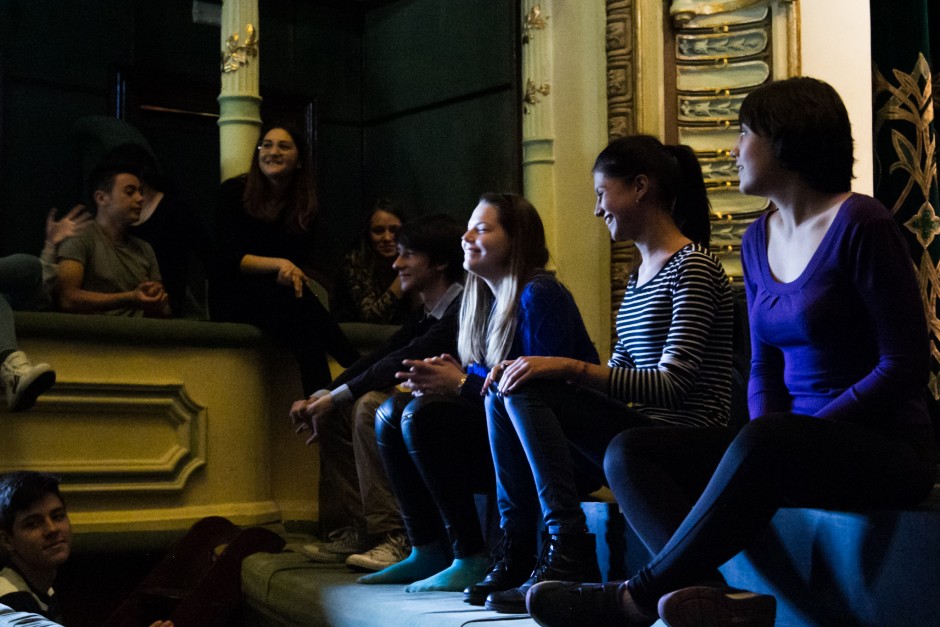 Otilia Cârstea and Diana Tircomnicu, founders of the Ba Da Association, are the puppet masters of these rehearsals. They brought together, in a real theater, high school students, actors and university students, challenging them to speak through theater about the things they are interested in. Otilia and Diana, friends since middle school, both from Caracal, are 28 years old. Last year, they returned to their city of birth, after living in France and Brazil, where they joined various non-formal education projects. They wanted to do something for their community and prove that things can change in a small city, that its residents can cooperate and evolve together. As Otilia had taken acting classes during high school, which helped her open up, she thought, together with Diana, that, if students were to develop their social skills through theater, the youth community would be a lot more united. This is how the project "CreACTive Communities" was born, funded with RON 21,000 by the Foundations PACT and Vodafone Romania. Together, the friends visited the four high schools in Caracal and picked 20 students for their theater training project "CreACTive Communities".
In November2015, the monthly theater workshops were initiated and held on Saturdays or Sundays by the trainer Florin Beciu, actor and director, along with four volunteers. Leo, a 1st year student at the National University of Theatrical Arts and Cinematography, also born in Caracal, showed the students several games that he had picked up in university and talked to them about imagination and improvisation. In the beginning, those who were not familiar with theater "displayed a bit of shyness and fear, especially related to talking, speaking up or getting involved in the games", Leo remembers. However from one week to another, they became more and more confident.
During the breaks between workshops, the students also talked about their problems and discovered they were logging on to Facebook a bit too often. "What does this Facebook mean to us? What if, on the street, instead of saying hello, we'd tell people: «I'm in the mood for pancakes» or «I'm watching a movie tonight», wouldn't they think we were weird?", Alice was wondering. This is how they managed to find the theme of the final show and to compose characters inspired by their own experience. Some of them wrote their lines themselves, based on the problems they had faced or observed around them.
On Christmas, the youngsters held theater workshops at the Caracal House of Culture. Five students from the High School "Viteazul" invited their teachers to the shows through the game Samurai, which they had learned during the workshops, an exercise which develops attention, coordination and speech. In front of the teachers' lounge, one student was attacking, his palms connected as a sword, and another was responding to the attack by yelling "Ha!". The entire group's attention is required in order to see where the attack is leading, and coordination is important, as partners must have the same rhythm. In the end, they explained teachers that, at the event, they will show several games related to concentration, multitasking, breathing and orientation. They also arranged a public coffee shop, where they debated the subject of introducing theater and non-formal education in schools.
Sonia Filip, a Romanian and universal literature teacher from "Mihai Viteazul" thinks that such a project motivates the students, a motivation that school often fails to provide, and helps them learn to learn. "Through acting, they leave themselves and see things from another person's perspective. They grow up".
On March 9, close to the premiere of the show Offline, 14 students swarm around the stage, reaching or pulling their hands, as they do with Facebook friendships. They all behave like in a virtual world. The characters do not speak to each other, but simulate the atmosphere of a social network. After stopping in front of Andrei and just looking at him, without sending a friend request, Alice reaches out to him. Several voices echo: "Do you want to be friends? Do you want to be friends?". Alice stares into thin air, while avoiding her game colleagues and asks: "I'm making pancakes, anybody wants to stop by?". Andrei also throws out a message: "I'm having fun in the billiard room with Ştefan". The trainer asks them to do again the scene where a much younger boy, a 4th grader, joins them, yelling: "Guys, give me some friendship too", while the others watch him in disbelief.
During the workshops and rehearsals, the students have learned to listen to each other and to accept the trainer's suggestions. Not many of them were used to cooperate or learn from their mistakes.
The show Offline presents both the interaction between high school students in the virtual world and the various problems they face in real life, such as loneliness or lack of confidence. Alice has built her role based on her family's constant moving, due to which she was constantly the new girl and failed to feel at home anywhere. Her parents kept switching from one job to another in Southern Oltenia, in Bechet, Dăbuleni and Gura Padinii. They stayed the longest in Caracal, for eight years, and the shortest stay was in Craiova, around two weeks. During rehearsals, Alice says her lines in a high pitched voice. "I always hoped that all this moving around will stop (….) When someone asks me where I'm from, I say everywhere and nowhere". She walks around with her right hand in front of her mouth and the left one in front of her stomach, as if she is feeling an intense pain.
Andrei Mihuţ, a green eyed boy in 11th grade at bilingual English philology, is Alice's desk mate. In order to highlight the lack of trust among people, he built his role starting from a time when a friend lied to him about not being allowed to go out, only to meet him later, in a bar, with other boys. When he gets into character, Andrei crouches, frowns, with his hands together or in front of his lips. He bites his jaw and says his line in a sad voice: "I was angry that he lied; I felt very embarrassed". Since he's been rehearsing with the other students, Andrei feels that he speaks more openly and that he has learned to listen more. He liked the fact that, in theater, you must fully trust your stage partners and that he experienced so many emotions in a very short time, from sadness, to enthusiasm and happiness. "We have generated ourselves certain feelings and believed in them, so that the audience could believe too."
This material was drafted in a partnership with Decât o Revistă, within the founding round Involved in my community, conducted by the Foundation Vodafone Romania and the PACT Foundation. You can find more stories on involvement on the platform oameniisudului.com, developed by the PACT Foundation.