Teachers from eight schools use the latest equipment and technology in class
Bucharest, May 30, 2019 – Thanks to the "School in a Box" national program, students and teachers from rural areas benefit from the digital platform www.scoaladinvaliza.ro and eight suitcases equipped with the latest technology. The program, implemented in partnership with the World Vision Romania Foundation, is run in eight rural schools from May 2018 to August 2020 and benefits from over € 420,000 in funding from the Vodafone Romania Foundation.
The digital platform www.scoaladinvaliza.ro consists of two sections, one for the general public, the other accessible only by logging. The section of the platform accessible to the general public hosts over 300 resources organized according to discipline or level of study, being continuously updated with useful materials. Among the resources uploaded in this section are the Vodafone Digital Library, which includes history lessons presented in the form of comic books as well as other resources – prose, poetry and philosophy, textbooks downloaded from website of the the Ministry of Education, online and downloadable curricular and extracurricular resources, interactive exercises, courses, etc. Users also have access to tests and information developed by the SMURD Foundation, applicable in various emergencies situations alongside parenting resources (in areas such as child health, education, etc.).
The educational platform can be used in schools both online and offline, using the equipment available in the eight digital boxes. Each box, designed accordingly to the Vodafone "Instant Classroom" concept, is similar to a mobile digital lab, permanently connected to the Vodafone 4G network. It contains a performant server, a laptop for the teacher, 25 tablet for students, a video projector and an audio system nd has over 8 hours of autonomy. This digital boxes ensure teacher's independence and access to technology for the entire community.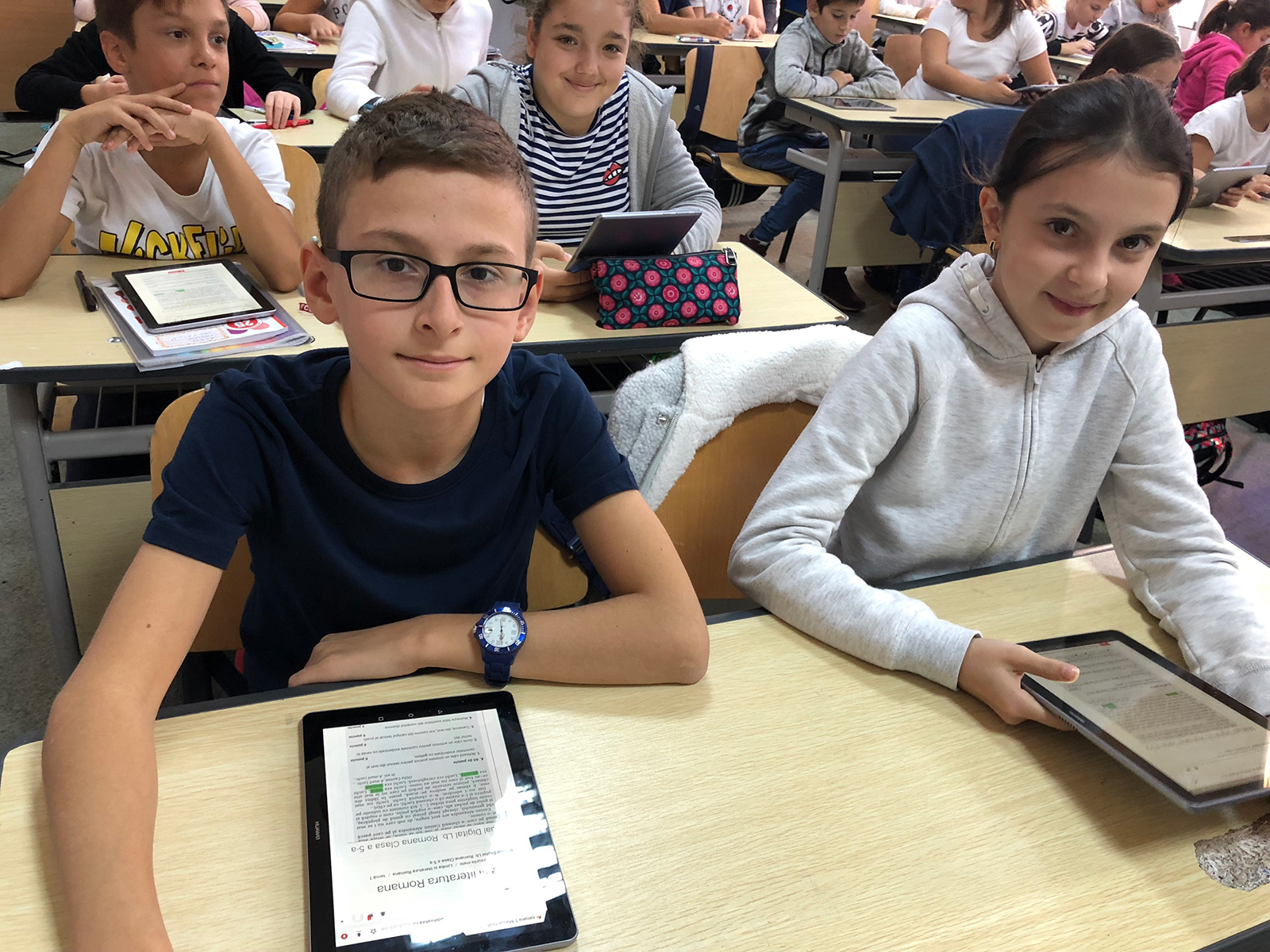 The eight Instant Classroom boxes were distributed in the schools where the program is running, namely: Gymnasium School in Gura Văii, Vâlcea County; Gymnasium School in Coşereni and Gymnasium School in Sineşti, Ialomiţa County; Gymnasium School Nr. 1 from Afumați, Ilfov County; Mihai David Secondary School in Negreşti, Secondary School Nicolae Ciubotaru from Vultureşti and Gymnasium School Nr. 1 in Parpaniţa, Vaslui County and Liviu Dan Gymnasium School from Mociu, Cluj county.
Each of the eight schools participating in the program has its own online digital space for lessons, accessible only via specially created accounts. Here, teachers can create different resources – their own lessons, tests, questionnaires and games, or they can add external materials that they find helpful. In turn, students use the platform and tablets in class, enjoying secure access through user-name and password authentication. Account administration is centralized at school level. Until mid-May, teachers created over 3,500 resources directly on the platform, visible only to pupils in their classes, accessed over 13,000 times.
The Vodafone Romania Foundation is a Romanian nongovernmental charitable organization, established in 1998, which operates separately and independently from the Vodafone Romania SA's business. During its over 20 years of activity Vodafone Romania Foundation has funded 1,132 programs run by 730 NGOs hroughout the country, in the fields of healthcare, education and social services. These projects had a total of almost 3 million beneficiaries – hildren, young and old people and physically, socially or economically disadvantaged people. So far, Vodafone Romania has invested over 30 million euros in projects run by nonprofit partner organizations. More details about the Foundation's programs are available at fundatia-vodafone.ro, https://jurnaldebine.fundatia-vodafone.ro/ and www.facebook.com/fundatiavodafone.
World Vision România is part of the World Vision International partnership, present in nearly 100 countries around the world. World Vision Romania is a Christian foundation that carries out humanitarian intervention programs of emergency, development and advocacy, putting the child's wellbeing at the heart of its work. The Foundation focuses on working with children, families and communities to overcome poverty and injustice. Inspired by Christian values, the foundation works with the most vulnerable people in the world, regardless of religion, race, ethnicity, or gender. In nearly 30 years of presence in Romania, the foundation has helped over 500,000 children and adults in 400 communities across 8 Counties. World Vision Romania believes in the right to equal opportunities for rural and city children, therefore, in the rural communities where it is present, the foundation runs long-term community development programs focusing on education and reducing school drop-out, health and child protection , agriculture and rural development, civic and Christian engagement. Thus, children have access to better living conditions through the sustainable development of the community they live in. The projects focus on transforming communities and their members to achieve a fulfilled life for each child. Please access: www.worldvision.ro, www.facebook.com/WorldVisionRomania, blog.worldvision.ro/ for more details.