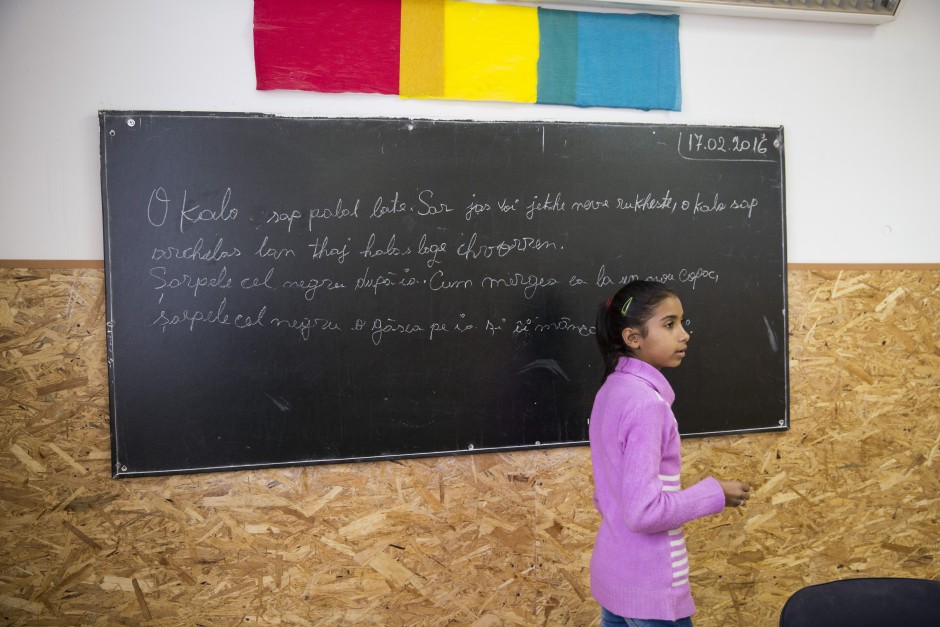 The leaders of a Romani community are fighting to keep children in school
By Medeea Stan
Thursday, at 11:45, students in grades 5 through 8 from the Negoi Secondary School are getting off a local yellow minibus and walking quietly, in a row, across the damp lawn in order to reach the pavement. The soft March rain runs down their cheeks, and some of them squint their eyes. Some of the 7thgraders are thinking about the math test they have to take that day.
In Negoi, Dolj county, many of the parents do not even encourage their children to finish the 8th grade, much less go to high school – the closest one is in Băileşti, 18 km away. Transportation costs money, and some families cannot even afford to buy schoolbooks for their children. Because they are not able to find work in their hometown, parents work by the day at local farms, in Dăbuleni or Bechet. At the beginning of spring, the adults go to work on farms and in May or June they travel abroad, bringing their children along if they do not have relatives to leave them with.
Last year, 244 students were enrolled at the school in Negoi, most of them of Romani ethnicity. If they stay at home in the care of their grandparents, the boys from the Romani community manage to finish middle school, but for girls it is more difficult. Grandparents are often seen walking their 13 or 14-year old granddaughters to school, fearing they would be stolen or that they would run away with a boy.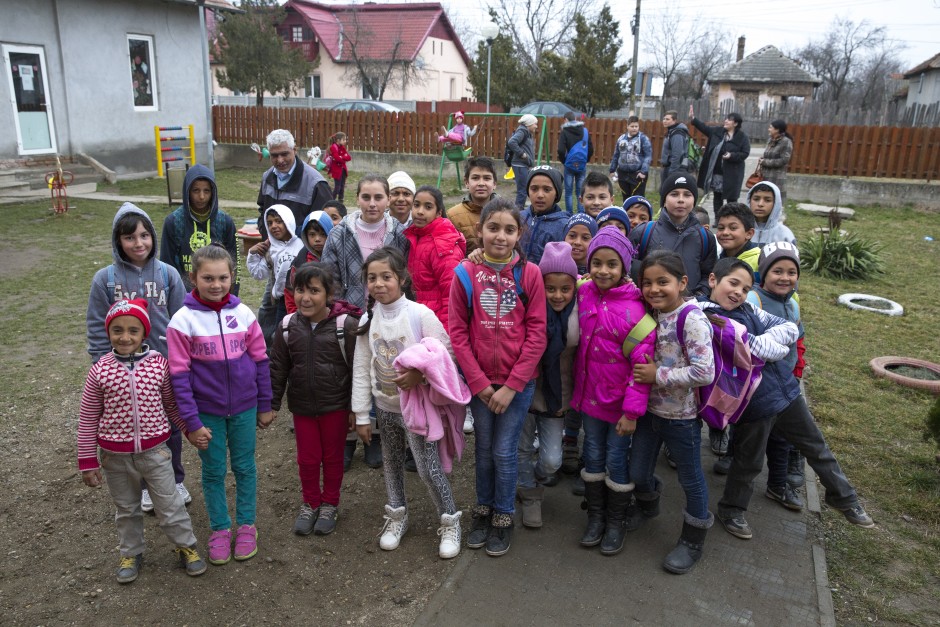 There are two girls in the 8th grade, along with five Romanian boys and five Romani boys, whose families will not allow them go to school anymore. This year, three Romani students are supposed to take their National Evaluation, and one of them is Alex. The green-eyed boy with side-parted hair often travels to Spain with his parents. He says he likes to attend school, especially to Romanian Literature classes, but come summer he will have to drop out and leave. "I don't think I'll make it to high school; my parents won't let me go anymore", he says staring at the ground. For children like Alex, an Initiative Group was created in Negoi. Six of the most active members – the president of the association, the school mediator, the commune's deputy mayor and three leaders of the Romani community are trying, by means of an afterschool programme called "Children, the future of our community", to persuade parents and children not to give up on their education. The project, proposed by the PACT Foundation and funded by the Vodafone Romania Foundation with 31.500 Lei, was implemented from September 2015 to February this year and involved 30 Romani students, 15 from the primary cycle and 15 from the secondary one.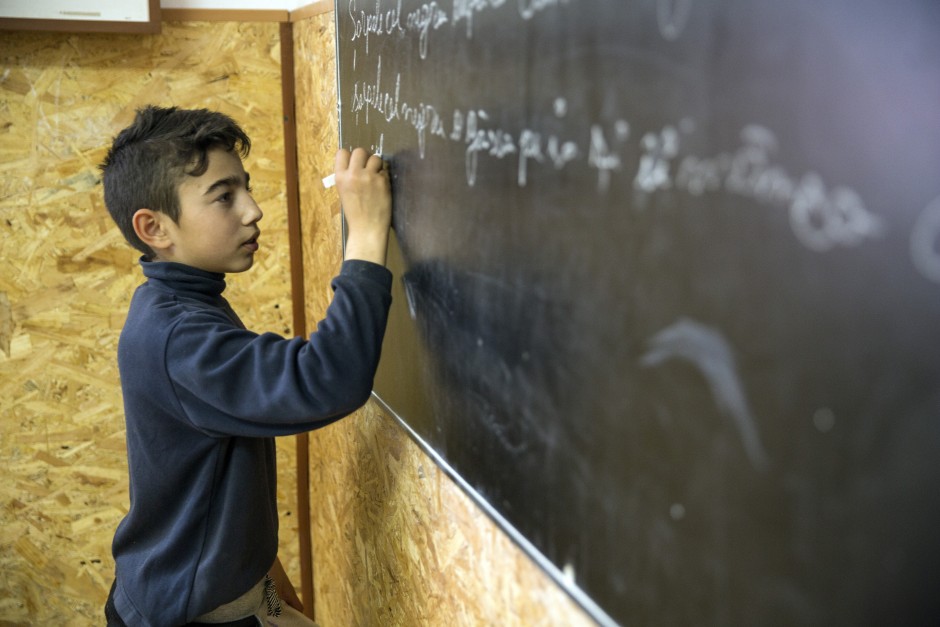 Marcel Cîmpeanu, a Romani language teacher and president of the Initiative Group would spend an hour and a half or two after school with the young students on Wednesdays, Thursdays and Fridays, and the math teacher, Floriana Buţă would work with the older children. Usually they would do their homework, as well as other activities. The children received hot meals during those three days, at noon, so that the older children, who have afternoon classes, could meet the little ones, who have classes in the morning. They would have lunch together in the computer room, consisting of mashed potatoes with pickles or rice patties. They would also get fruit or cake for dessert.
Cîmpeanu, a 56-year old man with curly grey hair, has been teaching Romani language since 2000. Up to 1990, he was the master woodworking instructor for the school's workshop and after that he worked as an oil well and television repair technician. He enjoyed studying; he graduated from the Faculty of Psychology and Education Sciences from Bucharest and encouraged his children down the same path: one of his daughters is a professor, the other one a teacher, and his son is studying mechanical engineering. He likes to propose educational projects and obtain funding, being one of the few people in the community who knows how to do that. He wrote his first project for Negoi, "Playing is children's joy", in January 2014 and he has been accessing funds for education ever since. He knows that these activities help both children and their parents, because they all have something to learn from them. "In life you don't just have to take, you also have to give, leave something behind", he says, convinced that "education is the foundation of society and you owe your job, civilisation and self-esteem to it". That is why on Fridays and Saturdays Cîmpeanu would invite the parents at school, at the cultural centre or the town hall and talk to them, along with the other members of the Initiative, about the importance of education and the children's school performance.
Floriana Buţă, the math teacher drives 33 km everyday, from Bârca to Negoi. She is the mother of two children, a boy in the 5th grade and a girl in the 2nd, who are asking her why she does not spend more time at home. She won over the children she worked with through math crosswords and Sudoku. She is glad the participants kept up with school and only missed classes during harsh winter days. She believes the hot meals also meant a lot for the children. She remembers that children used to not finish their casseroles at lunch and she did not understand why. "I asked one of the kids: «Why aren't you eating? ». And he told me: «Well, I have to save some for my brothers»".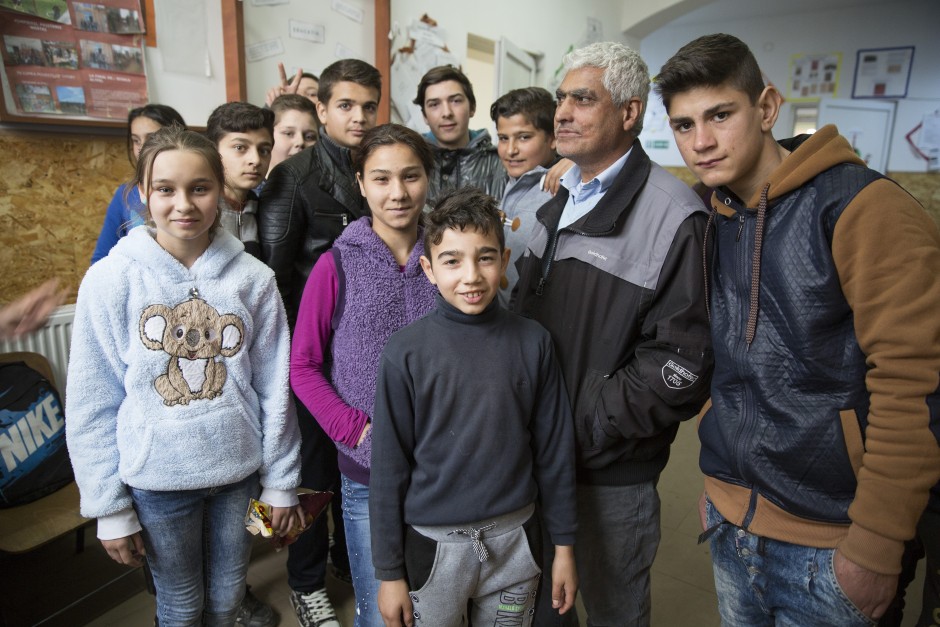 Before the project, if some students had been missing school for a longer time, Buţă would pay them visits at home. She would try to convince the parents not to take them abroad and force them to drop out of school: "We hit a wall. We do our best to have them graduate 8th grade". She still fights for this at parent-teacher conferences, but at the last one, for instance, no one showed up. Too few parents get involved and she can feel the lack of interest from all families, not just those of Romani ethnicity. About three years ago, a girl was crying, saying that she wanted to go to high school, but her parents had married her off right after middle school. Another time, Buţă announced a student's mother that a boy from another town had been looking for her in the schoolyard, and then his parents pulled him out of school.
During math class, 7th graders are revising the Pythagorean Theorem, which will be on the test after recess. Buţă is walking among the desks, while Gabi, one of the students who participated in the "Children, our community's future" project, stands up and gives the definition of the theorem. The boy has braces and is wearing sweatpants with bright-green stripes. He stumbles a bit, he smiles, and the teacher encourages him until he manages to give the correct answer. Next, a girl with long blonde curls that flow down her shoulders comes up to the blackboard. She took part in the project, too. She quickly demonstrates the converse of the theorem, showing why a triangle is not right. Cîmpeanu does not want to remain passive while the children in the commune abandon school and their parents do not think about their future. As long as he can, he wants to do something useful. For now, he has two projects in progress: "Happy Thursdays" and "Healthy Education". The first one has pre-school students take part in weekly sports activities, while the other one involves 16 meetings with students, during which form teachers, the local doctor and medical assistant explain the importance of hygiene to children.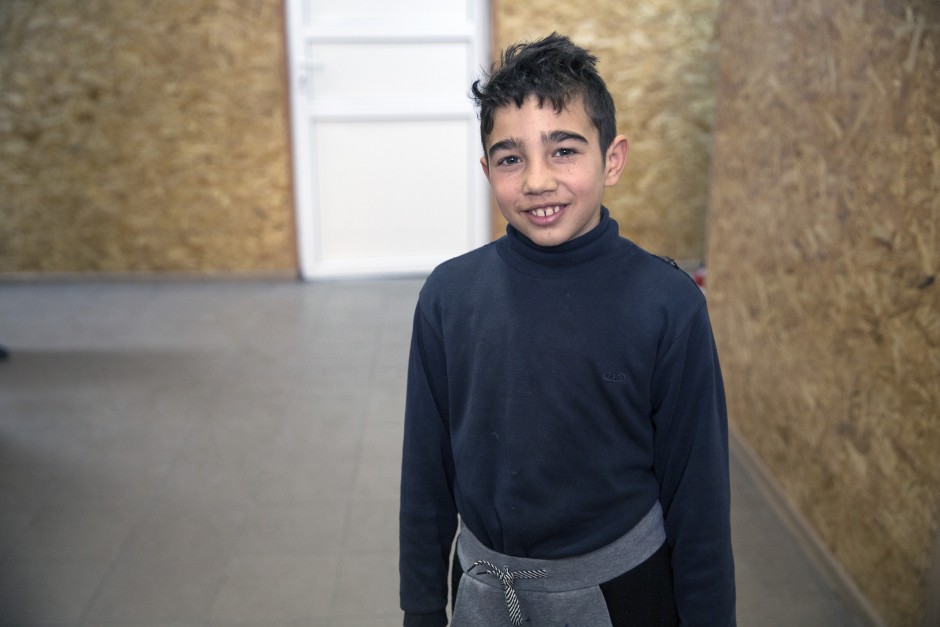 The young students, as well as the older ones are enjoying the project, especially the school trips. Cîmpeanu recently took them to Coseşti, in Argeş county, and after they returned home, they had barely gotten off the bus when they asked him: "When are we going again?". Parents find these activities useful and they scold him for not including all the children in the village in the project. He would like to, but the spots are limited and they are dependent on the budget. Every time he learns of a new funding opportunity, he drafts a project and hopes he will obtain the necessary money, because that is how he is able to keep children invested in school.
This piece was written in partnership with Decât o Revistă as part of the "Involved in my community" financing round run by the Vodafone Romania Foundation and the PACT Foundation Foundation. You can read more stories about passion and dedication on the www.oameniisudului.com platform developed by PACT Foundation Foundation.