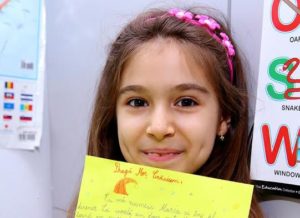 On Saturday, the 13th of December, we were quite busy. Actually, Santa Claus was busy, very busy indeed, because he delivered presents for 274 children, aged 6 through 12, cared for by non-profit organisations with whom we have been working closely.
We welcomed all of them at the Radio Hall in Bucharest, where they first enjoyed a pro-bono show performed by several Romanian artists, such as Mira, Alexandra Ungureanu, Cojo & Andrei, Bibi, Gabriel Cotabiţă, Keo, as well as the Radio Romania Children's Choir.
After being worn out from singing and dancing, children received their Christmas gifts, which were acquired with the support of Vodafone Romania employees through the "Letters to Santa Claus" programme. In a nutshell, each of our colleagues picked a child's heartfelt written letter and made sure they bought everything on the list.
The "Letters to Santa Claus" began in 2010 and it is one of the most moving projects carried out by our foundation. Every year, Vodafone employees took their role as Santa Claus seriously and got inevitably attached to the children.
We took a look at the children's letters. They wished for what any normal child would wish for from Santa Claus: remote-controlled cars, helicopters, school supplies, Spiderman backpacks, drawing kits, even fishing rods! We also made out words like trumpet, guitar or toy laptop, but also immaterial wishes, such as "health". This year many of the children also requested a symbolical gift for their baby sister or brother. Others engaged in an imaginary dialogue with Santa Claus, asked him about his health, about life at the North Pole and whether the reindeer were well fed.
This programme could not have been set in motion without the valuable support from Radio Romania. The show was attended by 247 children in the care of 10 Vodafone non-profit organisation partners. We offer our deepest thanks and feel compelled to nominate:
Hercules Association
Saint Arhidiacon Stefan Association
Saint Iosif Foster Centre
Edelweiss Foundation
Mia's Children Association
Diaconia International Help Association
SOS Children's Villages Association
"Little People" Association
Chance for Life Association
Princess Margaret of Romania Foundation