At the Bacău Athenaeum, children laugh so loud that the noise filling the room seems like a perfect acoustic sample of the joy of living. The person who's now cheering them up is a magician having the stage name of Augustin, who has pulled off, one morning before Christmas, the ideal magic trick: to provide to several children who have faced challenges throughout their lives a carefree and joyful moment. In order for this magic to be successful, extensive backstage preparations were required, which were completed, in a few weeks, by one elf, a few dozens of volunteers and hundreds of benefactors. When they laugh, all the children of the world look equal and you could not tell that many of the children in this room are facing an unfair battle with life. A while ago, they wrote a letter.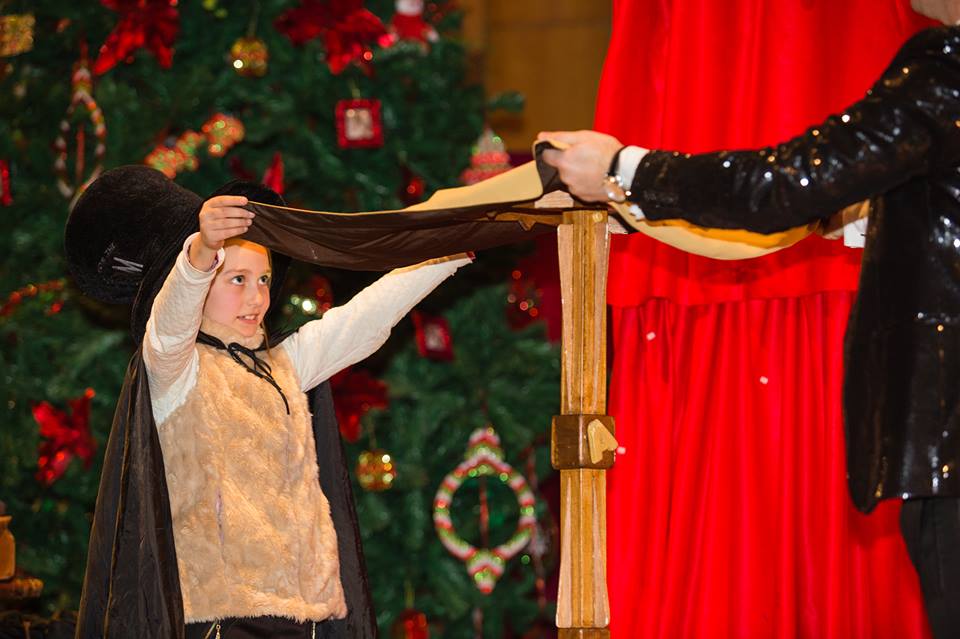 "Santa, I really do believe in you now"
Elf Clodi was there to help them start it and finish it, took it with her and gave it to Santa Claus. "Some of them come to write the letter without believing that Santa exists and end up believing in Santa. Yesterday, a child said, after receiving the gift: Santa, I really do believe in you now". Sometimes, children don't know what to ask for, she explains. "You advise them to tell Santa some things about them, so that Santa can get to know them better. Some children have no access to information, don't know about the toys available out there, don't want to ask for too much. Some don't have food, and have told me that they don't have a sandwich in their backpack, many walk long distances to get to school. So I said: But maybe you could use some boots. And they replied: But I have boots, look! And the boots on their feet had holes in them. Maybe you would like a jacket? And then slowly, after giving them confidence, they start asking for something", says the elf. When she is around children, in her red and green suit, she's always happy and full of life.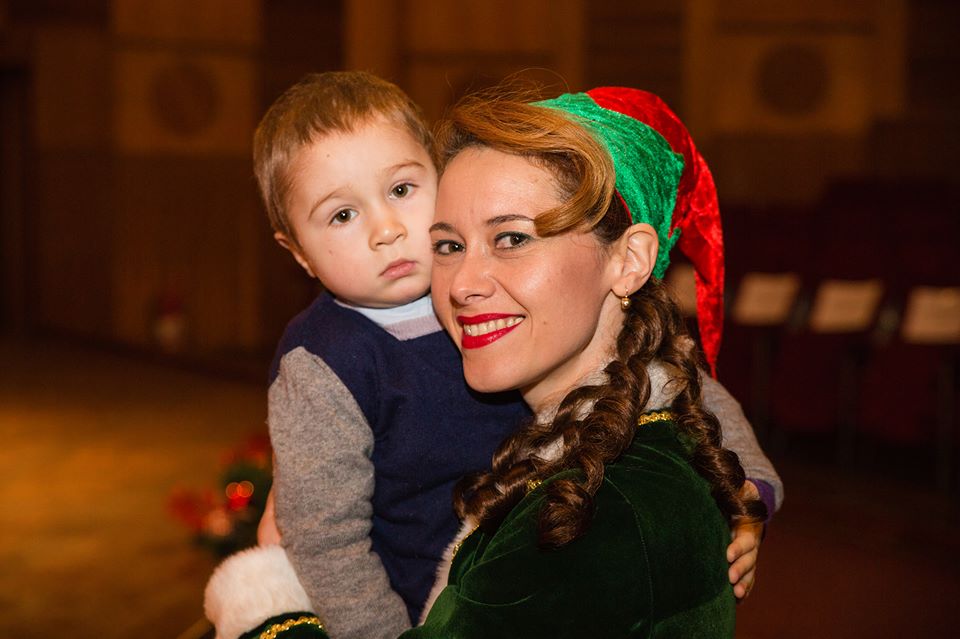 The little girl who asked for health for her brother
When she sits on a chair in the room where the volunteers prepare for the show, in her regular clothes, the one impersonating her, actress Veronica Popescu, reveals another feeling, one that elves usually avoid. Sadness. "One little girl told me that all she wants is for her brother to be healthy. He had had an accident, a stove exploded in his face and he had to go through several surgeries. He was also there, looking down. When I held him in my arms and kissed him, he raised his eyes", she recalls.
Alexandru should have been in 7th grade, but, because of the numerous surgeries, he is only in 3rd grade. He lives with his parents, sister and littler brother, in an isolated village in Stănișești Commune, Bacău County. He is shy and usually keeps his distance from the other children. Before starting the show in Bacău, a volunteer convinced him to get up on the stage and join a round dance with the other children. He started to smile.
"I am not sick. Isn't it so, daddy?" The desperation in the eyes of a parent
Veronica Popescu has gathered within the program "Letters to Santa Claus", conducted by the Vodafone Romania Foundation, the wishes of 600 children from all across the country. The letters then reached the benefactors, who tried to fulfill as many as they could and then sent the gifts to one of Santa's Workshops. From there, volunteers sorted, loaded and transported them to the four cities in the country – Cluj, Bacău, Pitești and Craiova, where children were invited to attend a show and meet Santa Claus. I saw the volunteers the night before the show in Bacău, forming a human chain while unloading the presents, decorating the tree, preparing the stage. Only one day before, they had done the same in Cluj.
There, Veronica Popescu met a little girl that she will never be able to forget. "We went to the Oncology Hospital, and she was hospitalized that very day. I told the children that I would like to hug them, that I love them, but I am not allowed to, because I had been outdoors, where there are germs. I gave them the presents and I also gave her something, because there are always some extra presents prepared, in case there are any new children. The little girl was sitting by the Christmas tree with her dad and she said to me: But you can hug me, because I am not sick. Isn't it so, daddy? And he replied: Yes, pumpkin, you're not sick. Our eyes met and I saw at that moment the desperation in his eyes". While she's recalling this, Veronica's eyes start fill with tears.
The life stories that the letters reveal
Most of the children in the program "Letters for Santa" live in underprivileged communities in rural areas, but most of the times they must face more than poverty: some suffer from the absence of their parents, others, from the fights in the family, other struggle with illness. These life stories are sometimes revealed in the letters to Santa Claus, as noticed by Angela Galeța (photo), the Manager of the Vodafone Romania Foundation.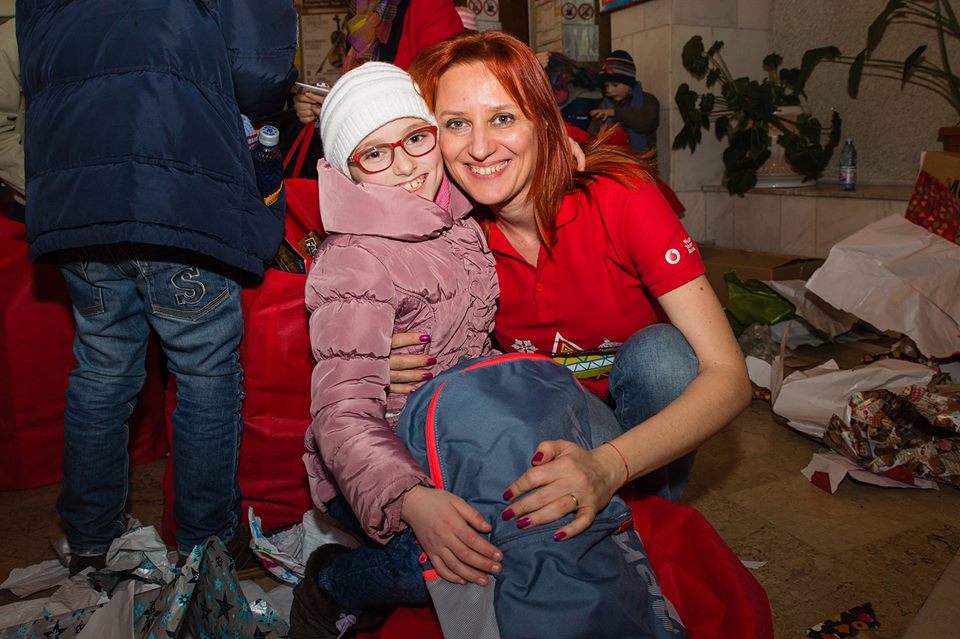 "When we started the project, we were wondering if it wouldn't be too much of an effort for the helpers of Santa Claus to prepare these presents, because we were expecting long letters, with many wishes. Then, we saw that most of these children do not wish for toys , many of them want clothing, shoes for them or their brothers. It's heartwarming to read letters where a child writes: Santa, if you can and manage to reach me too this year, please bring me boots, a jacket, a blouse, a pair of gloves for my brother. Or a ball pen or glitter crayons. I was surprised to see that many of the children ask for a book. It's very touching to read how a child writes that he wants health for his brother or how another wishes for peace in his home", she says. All the 600 children that have written to Santa Claus are also the beneficiaries of other programs supported by the Vodafone Romania Foundation.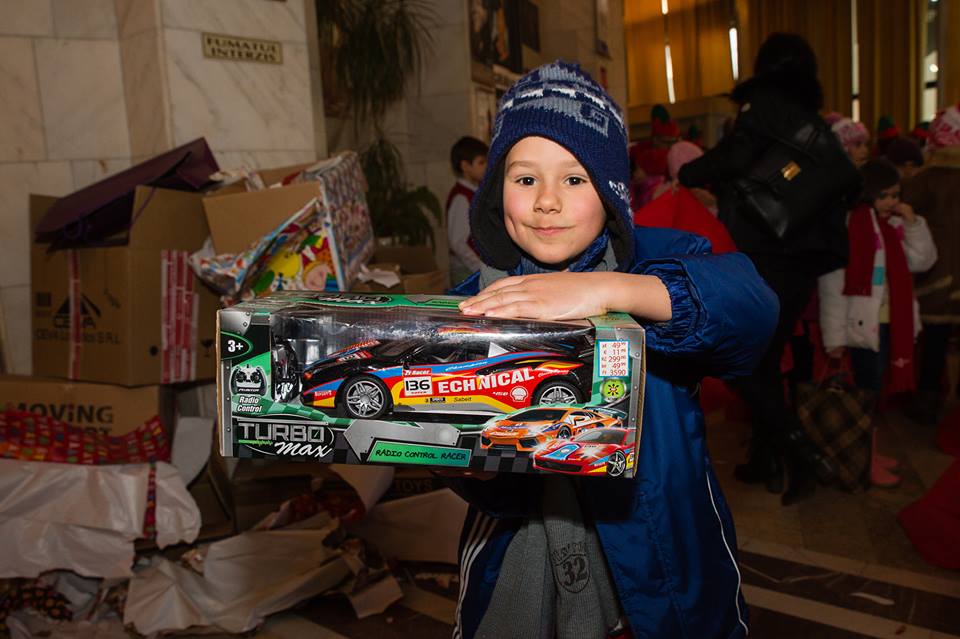 "There are some children whom you see in a certain way in the beginning that end up changing in time. Some children don't have electricity at home and come to a daycare center to do their homework, and there, they also receive a warm meal. Or children who need peace of mind and harmony, because they come from broken homes and that is their oasis of peace and happiness. For some children, life changed after receiving scholarships, and due to these scholarships, they managed to graduate from high school. These lives are filled with light. At the end of the year, we try to bring, besides from the daily needs that we try to cover, a little magic in their lives", says Angela Galeța.
At the show from the Bacău Athenaeum, around ten children in wheelchairs are having a blast, while Pinocchio is performed on the stage. "This was the first time they have ever seen a puppet show", says Mihaela Mihalache, the mother of two children with special needs and the woman who has founded, six years ago, a center for children with disabilities in Liești locality, Galați County, through which she tries to open a new window of the world for them.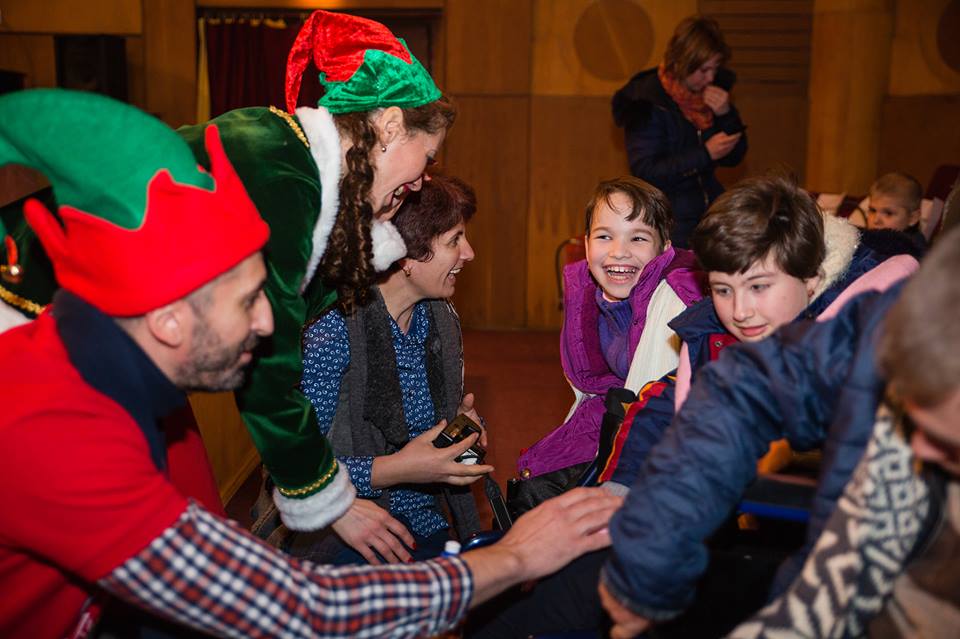 There, children with severe disabilities learn to express themselves and understand those around them. During the show, one of the boys shows Mihaela how the background changes behind the characters. She remembers that, years ago, on Christmas, not even carolers would come to her children. "When carolers come, I turn this into an actual story and I tell it to them for two or three days in a row. I tell them why they came, what this holiday is and they associate the carolers' bells with the story. And they know that when it starts to snow, when they hear the bells, it's the time for the white bearded old man to come", says Mihaela Mihalache.
At the end of the show in Bacău, Santa Clause arrived in the room for the 132 children. Most of them are eager to open their presents. Others wait to get home and open them with their brothers.