The program comprises training courses for 26 teachers
250 parents attended the "Parents' School"
Bucharest, 18 April 2018 – 460 beneficiary children from 13 "School after School" social centers funded under the third edition of the National Strategic Program "Investment in Rural Areas" of the Vodafone Romania Foundation have substantially improved their school attendance and their school performance, reaching almost 100% school attendance in the first semester of the school year 2017 – 2018. The 13 centers are situated in the counties of Bistrita Nasaud, Neamt, Teleorman, Constanta, Maramures, Ialomita, Ilfov, Alba, Valcea, Dolj, Cluj and Vaslui. Prior to participating in the program, the average child absenteeism rate was 40%. For the development of the 13 social centers, the Vodafone Romania Foundation has concluded strategic partnerships with two NGOs recognized for their extensive experience in developing projects dedicated to supporting children and disadvantaged families in rural areas: the Princess Margareta of Romania Foundation and the World Vision Foundation Romania. The funding provided by the Vodafone Romania Foundation to this program amounts to over 900,000 RON out of a total budget of almost 1.2 million lei.
"The success of the program demonstrates that centers of this type generate a major impact by "reducing the risk of school dropout the children from disadvantaged rural communities are exposed to and by strengthening the school-parents-community partnership. Our decision to invest in "School after School" type of centers is based on the findings of the national survey "Investing in Children′s Education in Rural Areas", which we carried out last year. The same study highlights the importance of improving the skills of the human resource working with children. That is why we have decided to also focus our attention on the training of the teachers involved in this program. We have therefore developed a special module for the 26 teachers who regularly participate in training courses accredited by the Ministry of Education. This March, ten of them graduated the << Learning by Projects >> module, said Angela Galeța, Director of the Vodafone Romania Foundation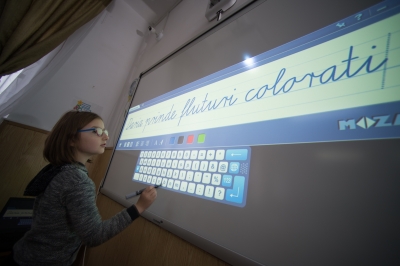 "As part of our project, five of the centers we are coordinating have been equipped with interactive whiteboards and 150 tablets, at the beginning of the school year. Using such devices to do their homework and to understand mathematical notions has stimulated a more active involvement of the children in class lessons and their desire to attend classes. While reluctant to raise their hands and answer the teacher's questions in class prior to our project, presently, the children are much more engaged in class activities. The progress these children are making through the use of educational software and digital school materials confirms that digital educational tools and interactive learning methods are essential ingredients for increasing school performance", said Dr. Mihaela-Loredana Nabăr, Head of Grants Acquisitions and Management Department, World Vision Romania Foundation
"In rural areas, it is essential to have School-after-School centers, where children can have a hot meal, do their homework and involve in socio-educational activities. Here you can find that a child has talent for painting or music, for example, or that he /she has a gift for constructions. Once you discover the gifted child, he/she has a real chance to find the right direction in life, completely different from the environment in which he/she lives", said Mugurel Mărgărit-Enescu, Director of the Princess Margareta of Romania Foundation
Before being part of the Investment in Rural Areas program, half of the 460 beneficiary children had problems in understanding Math problems and doing their homework. Almost none of the second grade students knew how to write their names, write the numbers from 1 to 10 and solve simple arithmetic operations with these numbers. As a result of the daily implementation of the program activities at the centers, 100% of the children have learned how to solve such arithmetic operations. At present, almost all children in the 13 "School after School" centers attend school with the homework properly done at their basic school subjects. They are also able to read better now and to respond to a higher extent to the questions the teacher asks in class. Children receive a hot meal every day, as well as donations consisting of clothes, footwear and school stationery, and at the end of the project they will go to a camp. Approximately 100 volunteers, including 15 elderly people, were involved in the program's activities, and 250 parents received counseling and information on the importance of education and the development of their relationship with children, thanks to the special module "Parents' School."
According to the national study "Investing in Children′s Education in Rural Areas", more than two-thirds of the rural schools are facing at least one educational risk factor, such as poor results at the national school performance evaluation, school dropout risk, high rates of absenteeism and class repetition, and one or more socio-educational risk factors such economically disadvantaged families or insufficient education spaces and related facilities.
The Vodafone Romania Foundation is a Romanian nongovernmental charitable organization, established in 1998, which operates separately and independently from the Vodafone Romania SA's business. During its 20 years of activity, Vodafone Romania Foundation has funded 1,104 programs run by 706 NGOs throughout the country, in the fields of healthcare, education and social services. These projects had a total of 2.7 million beneficiaries – children, young and old people and physically, socially or economically disadvantaged people. So far, Vodafone Romania has invested over 28 million euros in projects run by nonprofit partner organizations. More details about the Foundation's programs are available at fundatia-vodafone.ro, http://jurnaldebine.fundatia-vodafone.ro/ and www.facebook.com/fundatiavodafone
Over is 27 years of existence, the Princess Margareta of Romania Foundation has supported projects dedicated to children living in dramatic conditions, who are confronted with extreme poverty, school dropout or family abandonment, health problems or social exclusion. A total of 25,000 children and young people and about 2,500 families with precarious living standard, as well as 650 small local NGOs, have received assistance and support from the Foundation since 1990 to present.
World Vision Romania is part of the World Vision International partnership, present in nearly 100 countries around the world. World Vision Romania is a Christian foundation that carries out humanitarian emergency, development and advocacy programs, putting the child's wellbeing at the heart of its work. The Foundation focuses on working with children, families and communities to overcome poverty and injustice. Inspired by Christian values, the foundation works with the most vulnerable people from all over the world, regardless of their religion, race, ethnicity or gender. In its 27 years of presence in Romania, the foundation has helped over 500,000 children and adults from 400 communities in 8 counties. World Vision Romania believes in the right to equal opportunities for rural and urban children; therefore, in the rural communities where it is present, the foundation runs long-term community development programs, with focus on education and reducing school drop-out, health and child protection, agriculture and rural development and civic and Christian engagement. Children are thus facilitated access to better living conditions through a sustainable development of the community they live in. The Foundation's projects concentrate on improving the life of the communities and their members, thereby giving every child a chance to live a fulfilled life. More details about the foundation are available at: www.worldvision.ro, www.facebook.com/WorldVisionRomania, blog.worldvision.ro/