Bucharest, February 21, 2018 – 1,200 children from poor rural communities in 6 counties and from Bucharest will benefit from free dental checkups provided by the "Zâna Merciluță" (Mercy Fairy) project, the first dental care unit of this kind in Romania. Launched in 2017, the mobile dental office, which provides free tooth checkups and dental hygiene services (tooth floss and fluoridation) to children with social needs al health problems will continue its journey through the country in 2018, with preventive dental care services scheduled for the period from March 26 to May 27 in the counties of Braşov, Dâmboviţa, Bacău and Vaslui, as well as in Bucharest. Zâna Merciluţă project, initiated by Merci Charity Boutique, was funded by the Vodafone Romania Foundation with over 170,000 lei, a budget that covered the purchase and the equipping of the mobile dental care unit.
In 2017, the mobile dental office, manned with teams of volunteer dentists, provided checkups to more than 600 children in need from 11 disadvantaged areas in Iași county (Lungani, Sinești, Voinești, Dagata, Fântanele, Tutora, Mironeasa and Liteni); in Mureş (Gogan, Daia and Cund), as well as in Bucharest (children from Ferentari neighborhood and child-patients from Bucharest Oncological Institute).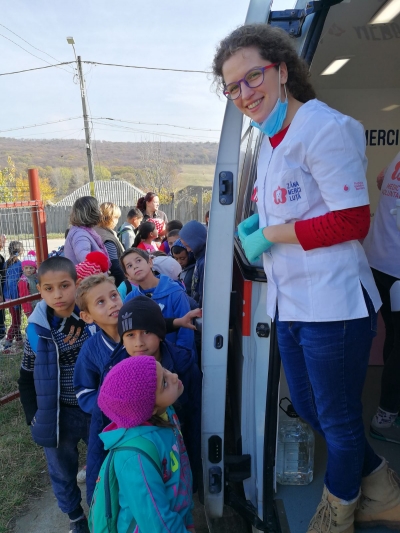 By end of May 2018 another 600 children will benefit from dental care prevention services. According to the calendar for this year, the mobile dental unit will arrive in March at Măgura Social Services Complex, in Codlea, Brasov. In April, the unit plans to visit two foster centers in Bucharest and in May, four villages from Motoşeni, Bacău County, and the village of Puieşti, Vaslui County. The mobile dental office will also travel to Târgoviște (Dâmboviţa County) and provide services at the site of the Special Olympics event to be organized there. For the period March 26-May 27, regular visits are scheduled to the Bucharest Oncology Institute.
"The information we have collected by the field surveys we have conducted based on questionnaires about oral hygiene and access to dental treatment services, filled in by a total of 380 parents, shows that children have serious problems with their oral health. That's why we've decided to engage in and support the "Zâna Merciluţă" project. In addition to dental prophylaxis services for children living in areas where there are no dental offices, the project has an educational component, that helps members of the community become aware of the importance of oral hygiene", said Angela Galeța, Director of the Vodafone Romania Foundation.
"From our field travels, we've concluded that there are entire communities that are deprived of access to health services, so the need for dental care could be satisfied by replicating this project. A network of regional mobile dental care units could meet this need much quicker and would also enable the implementation in the long run of regular oral prophylaxis and oral health monitoring actions", said Alina Țiplea, President of the Merci Charity Boutique Association.
The latest report of the National Public Health Institute, National Center for Health Assessment and Promotion says that school dentists practice now only in the urban dental offices. According to estimates, the incidence of cavities in children over six-year old is over 80% at national level. Also, over the past two years, many state dental offices were closed down, the most affected by this change being the children living in the countryside.
"Zâna Merciluţă" is the first mobile dental office that provides free dental care services in Romania. Dental offices of this type exist in Germany, France, Poland, and the Netherlands and in the United States, and are managed by nongovernmental organizations. They provide free preventive, curative, recovery and emergency medical services to disadvantaged groups of children and adults.
The Vodafone Romania Foundation is a Romanian nongovernmental charitable organization, established in 1998, which operates separately and independently from the Vodafone Romania SA's business. During its 20 years of activity, Vodafone Romania Foundation has funded 1,104 programs run by 706 NGOs throughout the country, in the fields of healthcare, education and social services. These projects had a total of 2.7 million beneficiaries – children, young and old people and physically, socially or economically disadvantaged people. So far, the Vodafone Romania Foundation has invested over 28 million euros in projects run by non-profit partner organizations. More details about the Foundation's programs are available at fundatia-vodafone.ro, http://jurnaldebine.fundatia-vodafone.ro/ and www.facebook.com/fundatiavodafone
Merci Charity Boutique is a nonprofit organization set up in 2012, whose purpose is to support humanitarian causes through healthcare and educational projects, focusing on children with medical and social problems. Information about the association's projects is available at www.mercicharity.ro More details about the project "Zâna Merciluță" are available at www.zanamerciluta.ro